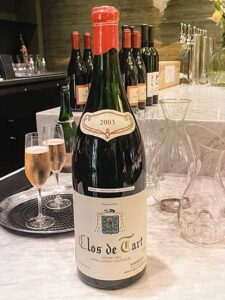 One of the perks of my job, as General Manager of a restaurant, is that I have the opportunity to open and experience a lot of wines. The other night I opened a beautiful double magnum of 2003 Domaine du Clos de Tart Grand Cru Monopole.
Clos de Tart is a Domaine based on a single grand cru monopole vineyard and winery in the Burgundy commune of Morey-St-Denis in the Cote de Nuits and is made from Pinot Noir. Their winery tasting notes say that "this wine had an incredible dark robe, with a plethora of dark fruit (blackberry, plum, prune) and delicate violet and rose petal aromas that sit perfectly with mocha, dark chocolate and warm spice notes. Rich and voluptuous mouthfeel with sweet, caressing tannins, it has a firm structure, great freshness and a long, lingering finish."
I must admit that I have not tasted such an incredible pinot since an equally memorable Domaine Leroy Nuits-Saint-Georges that I tasted in a restaurant in the town of Belfort, France in 1978. Memories of this amazing wine has stayed with me all these years. I just wish that these treasured wines had the kindness to cross my path a bit more often than every 43 years or so!
If you ever meet a "Clos de Tart," do yourself a favor and indulge—it will make you understand the true meaning of the "nectar of the gods."